ZHANGJIAJIE TOURISM ONE-STOP SERVICE
 2019-12-22 21:13:00  ENGHUNAN 
Dear traveler:
You just need to figure out how to get into Zhangjiajie Airport or High-speed rail station. The rest of the travel arrangements are done by SHUIRE TEAM. This is ONE-STOP SERVICE. We promise:Integrity price & quality.Welcome to Zhangjiajie!
①Provide our own entrance-hotel services(Hotel booking offer 30-70% discount):
Hunan pipaxi hotel(Zhangjiajie national forest park entrance)
https://www.cn-zhangjiajie.com/hotel-46-35.html
Xiangruige Boutique Hotel(Wulingyuan xibu street entrance)
https://www.cn-zhangjiajie.com/hotel-45-159.html
②Provide you with professional tailor-made routes service
③Provide Train & air-tickets booking,Entrance tickets booking,Guide service, Car/vehicle/bus rental services and so on.
④Relieve you for Zhangjiajie tour traffic
⑤Save you worries & time & money
⑥Keep your journey safe and smooth
Contact Us:
Online email: shuire@gmail.com 2zjjtour@gmail.com
Online wechat: 13707445500(Shuire); 13787946183(Amy); 15874402902(Cathy)
Online whatsapp: +86 13762176163
Online facebook: shuire@gmail.com
Phone no: (+86) 0744-8362222 8298777
公司名稱:湖南湘中旅國際旅行社有限公司(中華假期)
Company: Hunan-XZL-International Travel Service Co., Ltd
公司地址:張家界永定區官黎坪桂花園A2座2116室
Address: Block A2-2116#,Guihua Garden,Yongding District,Zhangjiajie city.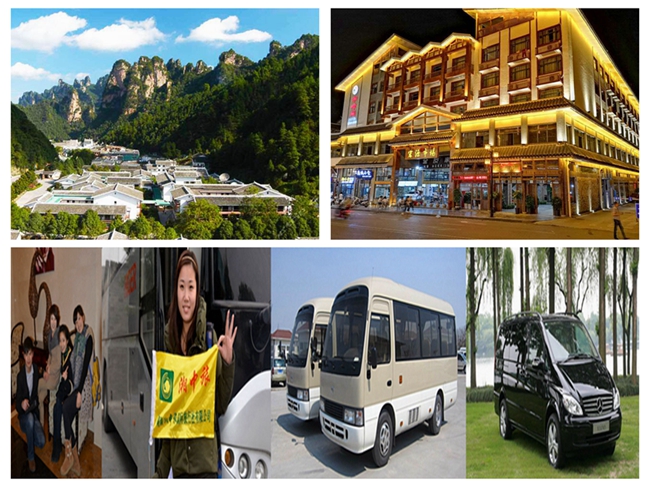 Keyword:Zhangjiajie Package Tour