Changsha Enters Best Time to View Colorful Leaves
 2019-12-04 20:49:00  Xinhuanet 
The leaves of a ginkgo tree, approximately 170 years old, near the Hongjundu Scenic Spot in Hunan Martyrs Park are now turning yellow and attracting many tourists. Many trees in Changsha are now tinted with different hues due to a sharp temperature drop and rainy days. Changsha has entered its best period to view fall foliage which presents the charm of the city and the results of green development.
Maple, ginkgo, golden rain, cherry, and loropetalum tree leaves turn a variety of different colors such as crimson-red, yellow, and orange at the Yuelu Mountain Scenic Area, Hunan Forest Botanical Garden, Nanjiao Park (South Suburban Park), Changsha Landscape and Ecology Park, and other scenic belts along the Xiangjiang river.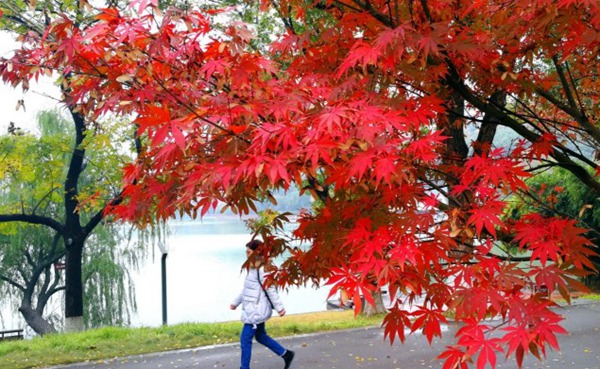 Changsha government has recently attached great importance to urban landscaping while increasing its green belts. Plants that bloom year-round for a constant display of colors are cultivated across the city to provide attractive scenery.
At Hunan Martyrs Park, sanitation workers in orange uniform clear fallen leaves, in order to keep the park clean and tidy and ensure a comfortable trip for residents and tourists.
Translator: Xiao Juan
Source from: Xinhuanet